Piano Lessons:

Unlock Your Musical Potential

The magic of this Renaissance instrument transcends time and space, captivating audiences with its timeless beauty and enchanting melodies. Try to imagine L.V. Beethoven creating the Moonlight Sonata or J.S. Bach composing St. Matthew's Passion! Experience the beauty of timeless music by learning to play the piano at our piano school. Our piano class is designed for complete beginners and explores the full emotional spectrum of music, from solemn and spiritual pieces to joyful and playful melodies.

Touted as one of the most played instruments in the world, you're sure to swoon in tantalizing symphony played on the instrument. Once you receive a certificate from us, know that your fingers are now fluent like the graceful flow of melodious stream.

Experience the joy of learning the piano with our diverse mix of music experts who bring a wealth of knowledge and expertise to shape your creative instincts. We offer world-class lessons on the piano for beginner and advanced levels following our carefully crafted internationally benchmarked piano course curriculum.

Learn at your own pace at our offline music centers located across India or you can bring home the music with our online piano courses. Our accessible online resources create an inviting and encouraging space for your musical development - thanks to our frequent assessments and performance opportunities that help in tracking and optimizing your progress at every stage!

Come, join us at FSM, and you will soon be singing the praises of your newfound piano skills.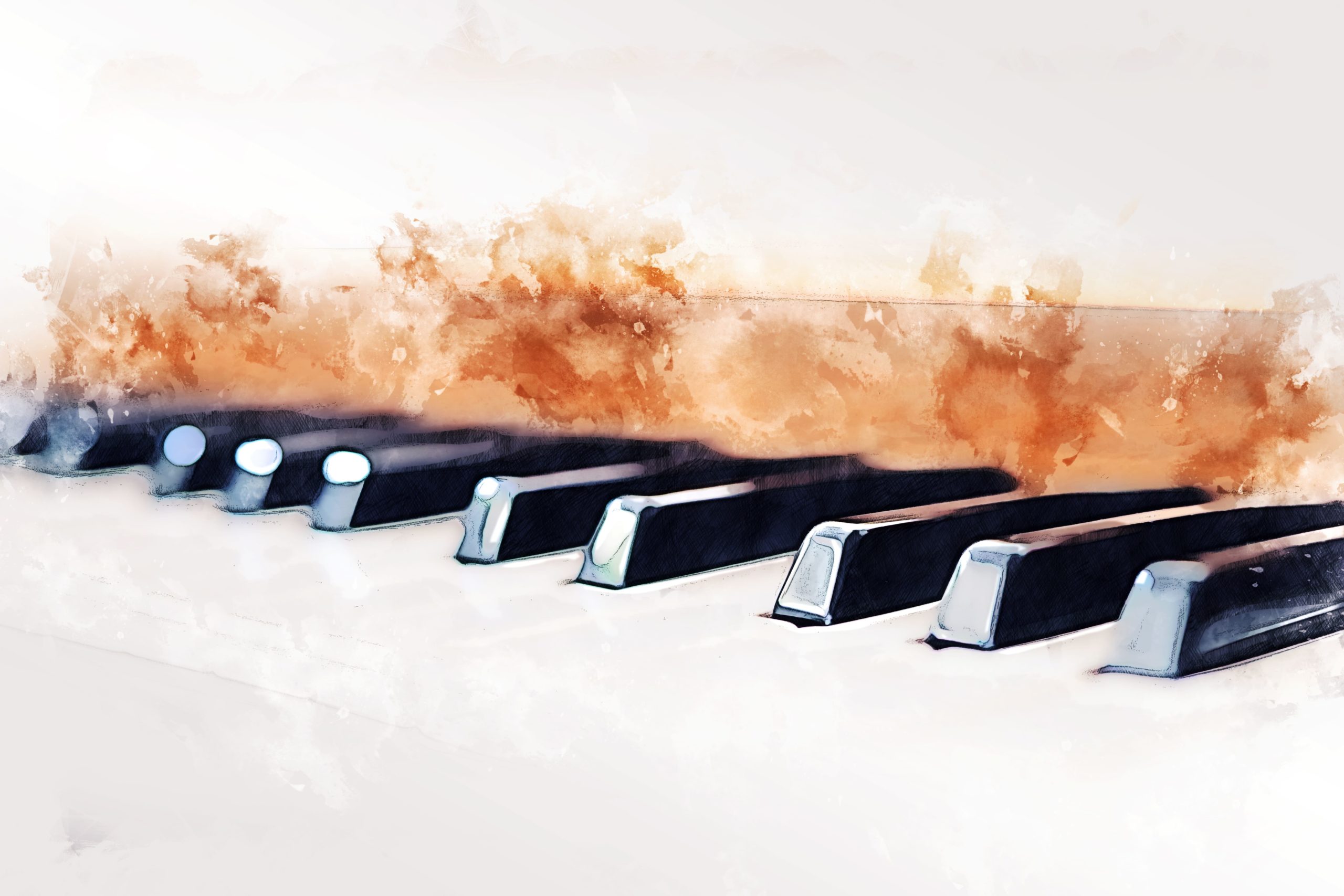 India's
Leading

Music School

In our piano classes for beginners students would be taught the basics of staff notations on the Treble clef and Bass clef. They will get to learn the basic scales and their application on the instrument with a 2-handed accompaniment. Our piano classes will train students to learn about dynamics, articulation, and accidental notes. Students shall learn Music Theory concepts along with songs.
Course Walk Through
In our piano classes online and offline, students will develop a basic understanding of staff notations on the Treble clef and Bass clef
They will learn basic scales and their applications on the instrument with a 2-handed accompaniment
They shall engage in music workshops and stage performances to build stage confidence
Objective of the Course
In our engaging curriculum students will achieve a sound knowledge of key notes.
They will learn about the fundamentals of Layout of the Piano, Finger numbers, Note values: Whole notes, Half notes, and more.
The above-mentioned details are for beginner levels. We do provide courses for intermediate and advanced levels up to grade 8. All our courses are internationally benchmarked and accredited by the institutes like The Trinity College of London.
Offline Classes : Students must carry their course materials and other music books to the music classes.
Access to a computer with internet communication. Students need to have a Keyboard / Piano based on their grade.
Basics of Music
In our piano classes for beginners, the curriculum includes Fundamentals: Layout of the Piano, Finger numbers. Note values: Whole notes, Half notes, Quarter notes, and Eighth Notes and their Rests.
Treble and Bass clef notes, understanding 4/4 and 3/4 Time Signatures.
Our online piano course or offline piano classes train students on techniques: C Pentascale, C major, and A minor scales.
Plus, we train them on sight reading Middle C to G on Treble clef and F to Middle C on Bass clef.
*The above course includes beginners lessons. Students can pursue Piano courses up to Grade 8 and above.
Student will be able to perform following topics
Students will learn basics of the Piano with focus on the C pentascale along with a few pieces from the curriculum. Based on that, students will learn simple tunes like Twinkle Twinkle, Ode to Joy etc.
Students will learn more exercises and pieces from the curriculum. They will also be introduced to scales like C Major and A minor. The students will also learn to play eighth notes. The songs in the book will be slightly advanced and the students will be able to play external repertoire of similar level. They will also understand rhythm reading and sight reading.
Apart from what is covered in the 20 sessions, the students will learn more keys like G Major and E minor.
India's
Leading

Music School
"I appreciate the way Deepak B sir conducts our music sessions. His patience and effortless way of teaching music theory are commendable."
"I learnt melody on C & G and the Piano Tuner. I understood both topics with ease in our interactive piano sessions."
"Excellent teaching techniques of respected teacher Mr. Subham. I am looking forward to many more classes."
"The music teacher taught us theory and made us comfortable in our early piano learning sessions."
FAQs
What is the difference between a piano and a keyboard?
A piano is an acoustic instrument that produces sound by striking strings with hammers, while a keyboard is an electronic instrument that produces sound through digital sampling or synthesis.
What is the cost of music lessons?
The cost of music lessons can vary depending on the mode and the type of lesson.
Can I choose two music courses at the same time?
Yes, you can opt for two music courses at a time. Both your classes shall be structured in a way they do not clash. Get in touch with us for more information.
How long is a typical music lesson at FSM?
Our range of music lessons typically ranges from 45 minutes to an hour. It's important to inquire about the length of lessons to ensure that they fit within your schedule.
Do I need my own piano to take the beginner's piano course?
It is recommended to have access to a piano for practice, but it is not required. You can still take the beginner's piano course at our offline music centers, where we provide instruments at classes for learners to practice.
What qualifications do the music teachers have?
We've partnered with India's best maestros, who bring a wealth of expertise and carry a great professional teaching experience.
Can I switch from online to offline classes or vice versa?
Yes, you can switch between online and offline classes at your convenience. However, prior notice must be given to the school administration.
Do I need any prior music experience to enroll in your classes?
No, you do not need any prior experience in music to enroll in our classes. We offer beginner-level courses that are specifically designed for aspirants who are new to music.
Do you provide instruments for practice during classes?
Yes, we provide instruments for practice during classes at our learning centers. However, we recommend that you have access to your instrument at home for regular exercise. We help you get the best quality musical instruments at the best rates.
How long does it take to complete a music course?
The duration of a music course depends on the level of the course and the individual's learning pace. Typically, our beginner-level courses are designed for 24 to 36 sessions, while intermediate and advanced courses include 48 to 96 sessions.
What certifications do I receive after completing a music course?
At the end of each course, students receive an internationally benchmarked certificate of completion from our music school. Additionally, our programs are accredited by reputed institutions such as Trinity College of London, providing international recognition to our courses. And you can opt for the respective exams of these institutes as well.
What will I learn in the beginner's piano course?
In the beginner's piano course, you will learn the basics of piano, including proper posture, finger technique, reading sheet music, and playing simple songs.
What age group is the beginner's piano course suitable for?
The beginner's piano course is suitable for children and adults of all ages without prior experience playing the piano.
What music genres can I learn to play on the piano?
You can learn to play various music genres on the piano, including classical, jazz, pop, and rock.
Will I have opportunities to perform in public after completing the Piano course?
Yes, we provide various performance opportunities for our students throughout the year, including concerts, recitals, and competitions.